Drag Queen Story Hour is coming to Lincoln, Nebraska. What should you know about it?
According to their own description: The Drag Queen Story Hour is an event at which local drag queens (men dressed up and made up to look like women and in some cases women dressed up to look like men) read stories to children. Drag Queen Story Hour was created in 2014 by Michelle Tea and RADAR Productions in San Francisco, "as a way to bring children, families and Drag Queens together for a playful hour of celebration and fun".
Michelle Tea once wrote the "Adventure Girl" column for On Our Backs Magazine (a lesbian erotic fiction magazine), documenting her sexual escapades. She has a long list of awards from various LGBT organizations and groups for her writing.  
RADAR Productions boasts as follows: We here at RADAR headquarters often toss around the concept that this is more than a series of literary events and services for writers. NO, … it's really a lifestyle.
As bizarre as all of this sounds, I'm not making any of this up.
If you take one thing from any of this, consider this fact: Males do not know how females feel, and females do not know how males feel. When someone says they "feel" like the opposite sex, they are merely saying they are confused, unhappy, uncomfortable, or in some way, they just don't feel like they think they should feel. To further encourage these people is to lie to them.
Paraphrasing the Drag Queen Story Hour's own website, these events are designed to capture the imagination and play of the gender fluidity in childhood and gives kids glamorous, positive, and unabashedly queer role models. They intend to promote transgenderism by showing kids people who defy biological sex so the children begin to imagine a world where people can identify as the opposite sex or a nearly infinite number of other identities, "and where dress-up is real".
Here is what is real: Biology. Science proves gender ideology wrong.
Lincoln will host its very first Drag Queen Story hour at Starbucks, 7020 "O" Street, on Sunday, June 2, 2019, from 3pm to 4pm.
The man who will dress up as a woman and read books to the children and adults in attendance is Yuka Layme.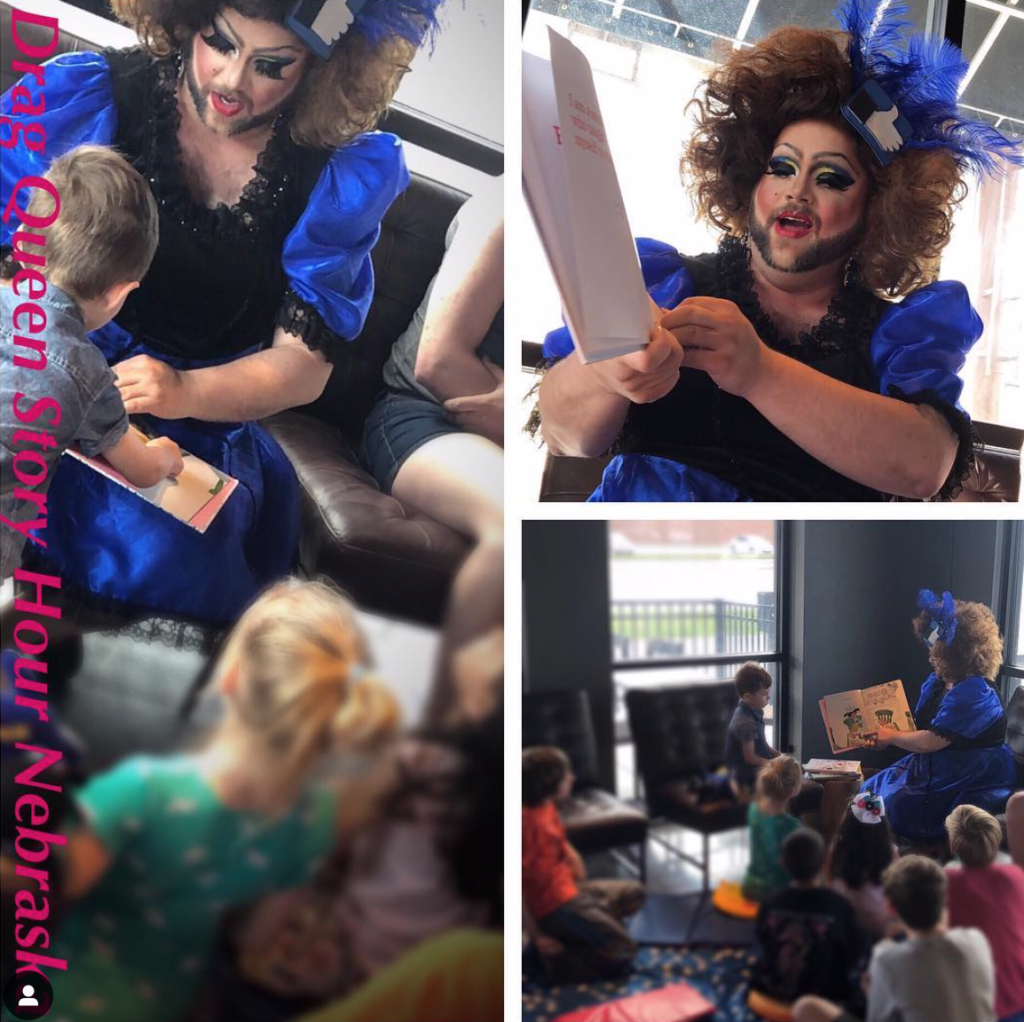 He is described as "a joyful broad". When not reading books about gender ideology to young children, Layme produces drag shows and dances in burlesque. He is also the Entertainment Director for the Panic Bar in Lincoln.
What might Layme read to the children? One book he likes to use is called Jacob's New Dress. It is a book about a little boy who likes to play dress-up.
"Some kids at school say he can't wear 'girl' clothes, but Jacob wants to wear a dress to school. Can he convince his parents to let him wear what he wants? This heartwarming story speaks to the unique challenges faced by boys who don't identify with traditional gender roles."
The book is written for children from preschool age to grade 3. An author's note explains how parents, educators, and counselors can help children become more gender nonconforming if they seem to want to explore. The author encourages you to purchase the book to encourage discussions of gender, identity, and self-confidence.
The Family Book, by Todd Parr explores many of the different ways a family can be structured. A Day In The Life of Marlon Bundois a book about two male bunnies who are married by a lesbian bunny. There is nothing about the cover of the book which hints toward the same-sex "marriage" message contained within. Both of these books are written for children ranging from kindergarten to early grade school.
He may read perfectly wholesome books too. You just never know what to expect when someone is trying to indoctrinate, manipulate, and anesthetize. And that is what this is all about. The whole goal of events like this, is to plant thoughts and ideas into the minds of children and foolish parents. I know of a little girl who recently picked up a book at the Hastings Library. It may have been A Day In The Life of Marlon Bundo, because the way she describes it, the book looks totally normal, but "two boy bunnies get married" in the book. Now the book pops into her mind every time she sees a bunny running around, and Hastings has a lot of bunnies, none of whom came from a relationship between two male bunnies or two female bunnies!
The unfortunate thing is, there are hundreds of picture books specifically written and published by LGBT activists, which are designed to perk the interest of very young children, and many of these books are in your local library. Children and unsuspecting parents select these books on a frequent basis. Though most people never get past the first few pages without returning the book, some get drawn in, and it is often curious children.
Teaching love and kindness toward others is one thing. Bullying and abuse is unacceptable in all situations. Unfortunately, these books are not designed to teach virtue, they are designed to encourage the embrace and celebration of cross dressing, homosexual relationships, transgenderism, and broken families.
Even when a child does struggle with their "gender identity" which is actually called gender dysphoria, psychologists and doctors know that over 80% of them will identify as their biological sex by the time they are an adult. This is called "desistance". As children who suffer from gender dysphoria mature, they most often grow out of gender dysphoria without any need for counseling, therapy, or any other special assistance.
The problem is, LGBT advocates want results more than they want happy and healthy people. The results they want include acceptance, celebration, legal protection, authority, etc… However, as they scramble for all of these things, they fail to consider the harm they are doing to people, especially children. As noted in an article from several years back, gender ideology is moving much faster than the medical and scientific research on the issue. As a result, children and others who jump onto the transgender bandwagon are part of an experiment. Parents and others who promote transgenderism to young children are therefore placing the children at serious risk of harm. For a long time, we have always recognized this as child abuse. Unfortunately, it has become unfashionable to point this out.
One prime example of all of this is the tragic tale of Desmond Napoles, who is becoming famous because his parents promote him as a drag queen child. Pray for Desmond and his parents, as their experiment is doomed to cause Desmond serious harm.
Here in Nebraska, we can still recognize reality. We can still point out that this is child abuse, and that young children should not be subjected to indoctrination by LGBT advocates. So what do you do?
You can protest events like this. That is certainly one option. However, it is often an option which is mistakenly or intentionally interpreted as hate. Another option is to set up a few bouncy houses and a snow cone stand as near to the event as possible. Make sure everything is free. Open it up 30 minutes before the drag queen is scheduled to manipulate, and close it down 10 minutes after the manipulation is scheduled to end. You can still pray near the bouncy house, and you can hand out wholesome books and good information for parents too. In this way, you are inviting and witnessing. You can also spend extra time at prayer throughout the day and weeks before the event, asking the Holy Spirit to open hearts and minds to the truth.
Here's another suggestion: Refuse to do business with Starbucks until they stop promoting abortion, the LGBT, racial unrest, etc… By the way, buying Starbucks products at vendors other than Starbucks still benefits Starbucks. Avoiding Starbucks is easy. I have been doing it for years.